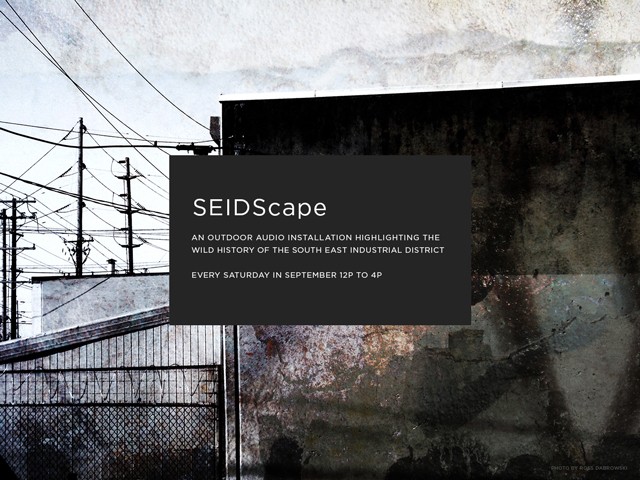 In September of 2015 I presented SEIDScape in Portland's SE Industrial District. SEIDScape was a large scale outdoor audio installation covering a 10 by 7 block area. Custom audio players sporadically emitted wild animal sounds in to the area, highlighting the wild history of this soon to change area.
Installation Dates:
September 5th from noon to 4pm
September 12th from noon to 4pm
September 19th from noon to 4pm
September 26th from noon to 4pm
Artist Statement
I have loved the SE Industrial district since moving to Portland in 2001. The area has played hosts to renegade practice spaces, illegal live/work spaces, rooftop parties, and unofficial wheat paste galleries. As Portland continues transforming itself, this area is also changing, but before it becomes a steel and glass monument to safe urbanity, I want to highlight the wildness that still echoes in the underpasses.
The sound devices will be placed in the area below:

Thanks
Photo by Ross Dabrowski, with design by Jessica Tate
Custom Audio Player fabrication by Back Porch Projects
SEIDScapes is brought to you in part by the Regional Arts and Culture Council

I also want to thank the businesses that have been so kind to host the audio players:
Portland Storage, Ruckus Composites, Guardian Games, AudioCinema, Ellumiglow, Evolve Fit Wear, Legacy Modern, First Choice, Office Furnature Services, Empire Rubber, Asia America, Bernadette Breu, Lippman, Cargo, Boke Bowl, Hair of the Dog, Montage, Bunk Bar, City Home PDX.