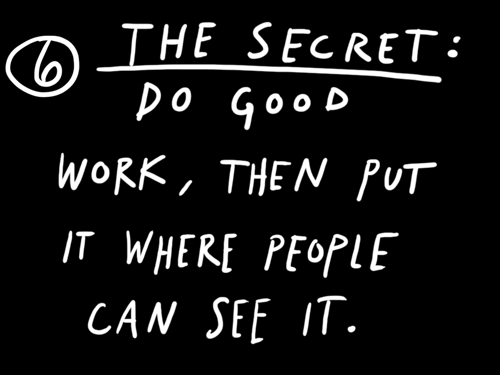 Austin Kleon wrote an excellent post that summarizes the things he's learned about success in the creative world.
I couldn't summarize my experiences any better:
"I get a lot of e-mails from young artists who ask how they can find an audience. "How do I get discovered?"
I sympathize with them. There was a kind of fallout that happened when I left college. The classroom is a wonderful, if artificial place: your professor gets paid to pay attention to your ideas, and your classmates are paying to pay attention to your ideas.
Never in your life will you have such a captive audience.
Soon after, you learn that most of the world doesn't necessarily care about what you think. It sounds harsh, but it's true. As Steven Pressfield said, "It's not that people are mean or cruel, they're just busy."
If there was a secret formula for getting an audience, or gaining a following, I would give it to you. But there's only one not-so-secret formula that I know: "Do good work and put it where people can see it."
It's a two step process.
Step one, "do good work," is incredibly hard. There are no shortcuts. Make stuff every day. Fail. Get better.""